App Review: @Habitica – Improve your Life with this #RPG
App Review: @Habitica – Improve your Life with this #RPG
http://teamue.com/wp-content/uploads/2017/05/iOS.jpg
175
175
admin
http://1.gravatar.com/avatar/10196284113f0dd1c9ecf003c4540c75?s=96&d=mm&r=g
Whether it be by writing to-do lists or by keeping a calendar, we all try to find effective ways of staying on track with our schedule and daily habits. However, this is easier said than done, and it can be easy to slack off and let things slide. Fortunately, Habitica offers a solution to help us improve our lives and keep us on track.
Essentially, Habitica is a role-playing game that takes a new approach to keeping yourself and your friends accountable. It "gamifies" tasks such as exercise and personal to-do's. After completing these tasks, you receive experience points and gold that you can use to level up or buy items to customize your avatar. To keep the user accountable, if you start to slip up in real life and forget to do some tasks, your character will begin to regress in the game as well.
Another unique aspect of Habitica is the way it promotes accountability across users. Additional features of the game such as "boss fights" and challenges are available when you play with friends, and promote social accountability as well as competition between peers. It is worth mentioning that these features of Habitica are only available when interacting with others, so blowing through the game by yourself is not the ideal experience.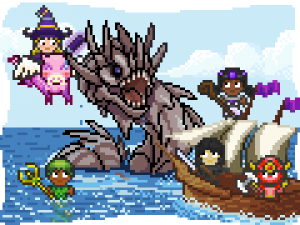 For all those who are fans of RPG's or video games, this game is must-try. Habitica also offers an accompanying "app", which helps players stay on track of updating their avatar. Here is their website if you would like to learn more!