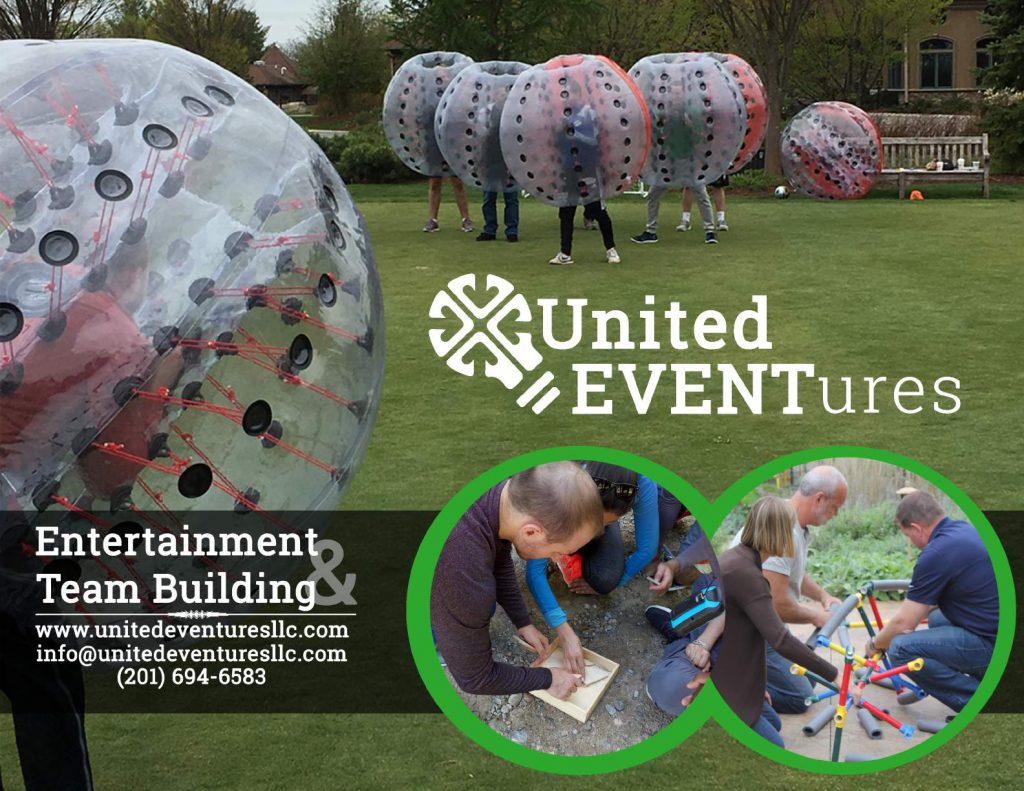 United EVENTures: Who We Are
United EVENTures: Who We Are
http://teamue.com/wp-content/uploads/2017/04/2017-Brochure.compressed-1_Page_1-1024x791.jpg
1024
791
MPatton
MPatton
http://0.gravatar.com/avatar/3424e957821395ea3722d3d6200c6077?s=96&d=mm&r=g
What comes to mind when your boss says "team building seminar"? A few hours of bad conference center coffee, speed cup stacking, some easy trivia games, and role playing. Does that sound about right?
Let's be honest: As an employer, keeping your employees engaged, connected, and feeling valued is vitally important. Connection and worth are at the very heart of what keeps employees engaged individually and as a team. Team building matters and not all team building programs are created equally. Creating great memories as a company can help boost team efficacy, company positivity, and ultimately, productivity.
United EVENTures, LLC is a full-service event planning company specializing in team building adventures, entertainment and conference services, as well as planning for all of your special occasions. Whether you are organizing a retreat to strengthen team skills or need help finding a venue or entertainment for a family reunion or party, we are here to take care of all the logistics and delivery.
We pride ourselves in excellence and creating experiences that are memorable, impactful, and engaging. There is no group too small, too large or destination too far that we cannot accommodate. We're dedicated to creating a positive and memorable experience that goes beyond the basic reputations of team building seminars, group activities, or parties – our goal is to create memorable experiences that last a lifetime.
A little about our mission and services:
We are willing to travel to you! It's a common question and our answer is always, of course, we travel.
We can tailor the program to fit your needs. At United EVENTures, you're working with experienced staff and facilitators with backgrounds in event planning, group leadership, and experiential recreation to help you achieve your goals. Need to work on communication and transparency? Try our Geo Trekking program or a scavenger hunt that incorporates trivia, problem-solving, and information sharing for a successful and fun outing that promotes clear and productive communication. Want to get everybody out from behind their desks and blowing off steam? Knockerballs, water wars, or our obstacle course will get you up and create memories to share around the water cooler.
We give back. Every event we host or coordinate, a portion of those proceeds goes to Tackle Kids Cancer, a nonprofit organization dedicated to ending childhood cancer and providing support and resources to children and families dealing with pediatric illness. We are also partnered with other charities and would love to help you host a fundraising or awareness event.
Follow up with us next Monday, April 10th for an interview with UnitedEVENTures President, Will Leggett. Check back with us here at the UnitedEVentures Blog for more this week as we shine the Spotlight on Sunlight: Jobs That Take You Outdoors. Watch out for our weekly question on twitter at UnitedEventures.